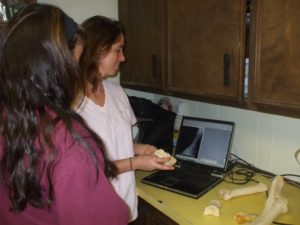 Lameness is what happens when a horse has an injury or painful area in his body that causes him to alter his way of moving or traveling. Lameness can occur anywhere in the body (feet, legs, back, neck) and can include one or more tissues (tendons, ligaments, bones, muscles, nerves, connective tissues). A lameness can be obvious such as a horse that hardly- bares weight on a leg due to a torn tendon, or it can be subtle as to cause a horse to not turn, stop, or jump as well as he used to. I consider a lameness to be almost an emergency. Many subtle lamenesses can turn into career-ending injuries if the horse is told to continue working.
If you suspect your horse has a lameness, a thorough lameness exam can be performed to try to find the cause. A complete lameness exam includes:
Complete observation of the standing horse for any obscurities (swellings, unevenness, change in muscle mass, conformation, scars, body condition, shooing, etc).
Observing the horse traveling on a hard surface in straight lines and circles. Possibly watching the horse while being ridden.
Flexing the horse. Each joint in the horse is isolated and held in flexion one at a time for 60 seconds. The horse is then asked to move off at a trot. This puts stress on the joint which may show more obvious signs of lameness.
Nerve and joint blocks may be performed to temporarily isolate certain areas of pain.
A chiropractic exam may be performed if needed.
X-rays (radiographs) or sonograms (ultrasounds) may be incorporated.
If needed, further diagnostics such as, nuclear scintigraphy, MRI's, or more detailed ultrasounds may be performed at specialty clinics.
Treatment options are wide and varied based on the source of the lameness, use of the horse, and budget constraints.